December 27, 2007

(Venily 2 months, 2 weeks, 1 day old)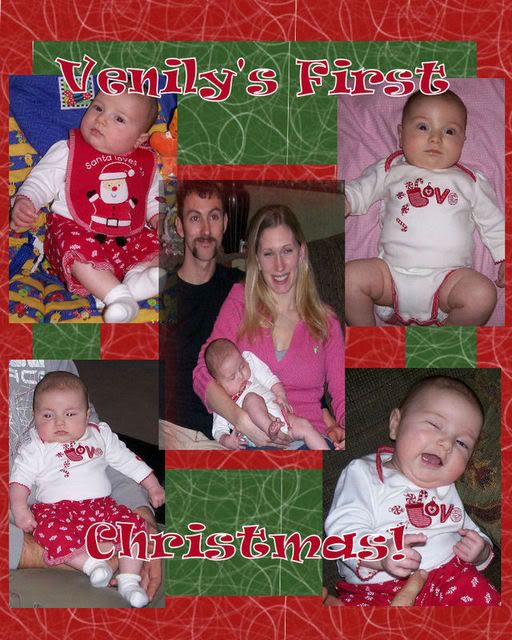 Got all the Christmas pics up!! I also put all of Venily's videos up here if you are interested:
http://s52.photobucket.com/albums/g30/jennifer_reyer/Venily%20Videos/




Venily's first Christmas has been awesome!

We've been really busy the last few days trying to see everyone and going to Chrismas parties. Thank you to everyone who has made this Christmas special for our little baby girl. She really does have some of the best family around! I didn't really get a chance to take a ton of pictures because I was so busy with Venily, but I do have some I'll have to put up later. Venily got so much stuff, I don't even know what to do with it all, lol! Mommy and Daddy got her books, toys, a baby's first Christmas ornament, a frame, and a spoon with her name and birthdate engraved on it (I'm going to get her something with her name on it every birthday and Xmas b/c her name is so unique- I thought that would be cute, I've already gotten her a couple of things!). And her family got her tons more! She has a whole new wardrobe now (and some of the cutest clothes I've ever seen!), TONS and TONS of toys, hair stuff, books, collector's dolls (from her birth year and some that over 60 years old), coin collections (3 different ones actually, from 3 different sides of our families), hat and gloves, ornaments, blankets, money, a floor activity center, a walking/riding toy, an exersaucer, and even her very own star that we get to name after her (it'll be the prettiest named star in the sky!), plus a bunch more! All this for a little girl who'd be happy with a smile and a kiss!! She's so spoiled already, but who can help it? I just look at her and I want to buy her the whole world and every thing she ever wanted, lol.

On Christmas eve we were eating at Subway and a guy came up to us and was looking and talking about Venily and how fast children grow up and it really hit me! :( He was saying how next Xmas she'll be walking and talking! I can't believe it, she's going to be running all over the place and getting in to stuff! LOL! I can't believe how fast she has already grown and how much she has already learned and she's only 2 1/2 months old! Over the past 2 weeks she's learned now how to bat at her toys with her hands, it's so cute! At first I thought she might be doing it on accident, but I can tell now how she uses all of her concentration to steer her hand where she wants it and move it around. The other morning I came into the living room and Jason was taking her hand and hitting a toy with it and then putting it back down and she was bringing it back up and hitting the toy and laughing.

It was the CUTEST THING EVER, lol!

And the look on Jason's face was EVEN cuter, he was so proud of her!!! I loved it!

Venily is still sleeping awesome during the night! She's still a little difficult to get down at first (it takes me about 5 attempts in 30 minutes). But, once she's asleep, she sleeps for 6-7 hours straight EVERY SINGLE night! It's so great. Then she wakes up and I change her and feed her and she instantly goes back to sleep for another 2-3 hours! I still get tired sometimes because I can't get back to sleep right away, but at least it's not her fault. I just get too many things running through my mind.



Only 5 more days until 2008! I can't wait, it seems like every year just keeps getting better and better!