May 31, 2007 (20 weeks pregnant- HALF WAY! w/ Venily)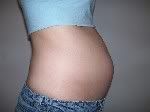 Picture: 19w,2d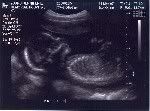 Venily: 20 weeks




I HAD MY ULTRASOUND TODAY AND EVERYTHING LOOKS AWESOME AND WE FOUND OUT THAT WE ARE HAVING A LITTLE BABY GIRL!!!! We're so happy!!



While we were in the car on the way to the hospital Jason said that he had been thinking about it and he thought that he'd rather have a girl! I was very happy with that, but was sad too, in case it was a boy and then both parents would have been hoping for a girl, lol! That's not something you would ever want to tell your child! Then, while I was getting my ultrasound done, during the first part they just looked at my organs and stuff and Jason was still in the waiting room, but I kept looking at the baby and thinking I saw "something" that would indicate that it was a boy. Of course I wouldn't have been unhappy if it was a boy, I was just really hoping for a girl and had VERY strong feelings that it was going to be a girl! Then Jason came in and they did all of the different measurements for our baby. They look at all of the major bones and all of the organs and things. She said that our baby was very active but that it was very good at taking pictures, lol! I knew it was active, she has already woken me up a few times in the night! Everything looks good with the baby though! Her heartrate was 136bpm. Then, by using all of the measurements that they took of things like her leg bone, waist, and head they calculated where she is at. She weighs about 3/4 of a pound. She is in the 55 percentile (which is good). And at exactly 20 weeks today (I'm halfway there!), she is measuring at 20 weeks, 1 day!!!! Just perfect!! Then she looked to find out the sex! I was preparing myself that she was going to say "boy" and she looked at her for quite awhile, just to make sure. Then she said that she was 99.5% sure that it was a GIRL!!!!! I was screaming and laughing and crying and grabbed Jason's arm because I was so happy! She said that she hadn't seen someone get that excited in a very long time, LOL!!! I couldn't help it, I'm so excited- that's exactly what I wanted! Then she showed us her little girl parts, lol, and said she could tell it's a girl not only by what she couldn't see, but by what she could see too! Hahaha, Venily must know that I'm getting all excited again just writing this, because she's kicking me hard right now, lol!!! And yes, we're still going with Venily for the name!! We still haven't decided on a middle name or names, but I'm sure we'll have one very shortly!! So, yep, we're parents to a gorgeous little baby girl named Venily Young!!!!!!!!!! Can't wait until we can finally meet her!

Our scanner isn't working, but as soon as we are able to we'll have up the ultrasound pictures from today. There is a picture of her foot, her face from the front, and one of her whole profile. She's a little cutie!!!! Also, when I get some time tomorrow, I'll be updating this whole site, so check back!